2023 Annuals!
There's triple the fun with this fabulous three-pack of Beano and The Dandy 2023 annuals!
There's triple the fun with this fabulous pack including Beano Annual 2023, The Dandy Annual 2023 and The Beano & Dandy Gift Book 2023!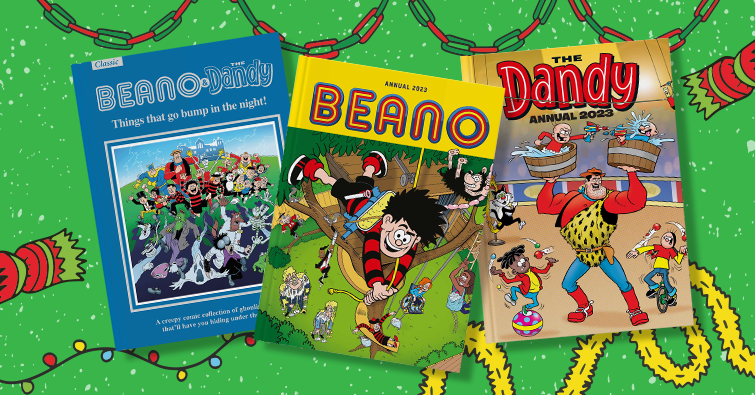 Beano Annual 2023
This year in Beanotown is an extra-special one as 2023 marks the 70th anniversary of Roger the Dodger! Roger always has a trick up his sleeve, and this year will see him make his biggest dodge ever as he tries to make it around the world in 70 dodges!
He's joined by Dennis and Gnasher, Minnie the Minx, the Bash Street Kids and all your favourites! It's 112 pages packed with jokes, mischief and laughs for everyone!
The Dandy Annual 2023
Roll up, roll up, for 112 pages of blamazing fun! Desperate Dan is your ringmaster for the greatest show in comics. Be dazzled by Dreadlock Holmes' detective skills, wowed by Winker Watson's wangles and crackled up by Korky the Cat's paw-some pranks! It's the greatest show on Earth and this annual is the perfect gift for kids (of all ages).
The Beano & Dandy Gift Book
Read this if you dare! Welcome, foolish mortals, to our strange and creepy compendium of ghastly pages and creature features as The Dandy and Beano, and all their chilling chums, entertain us with tales of terror and mystery!
Haunting these cartoon strip pages, you'll find relics from the legendary comic archives. This collection will trick or treat you to classic strips from Dennis and Gnasher, Desperate Dan, Minnie the Minx ― alongside their more supernatural pals like Winnie the Witch, Number 13, Hyde and Shriek, and many more!
This necronomi-comic of ghoulish guffaws is no mere collection of monster fun! While you get goosebumps and a shiver runs up your spine, behold the beastly beautiful artwork of some of Britain's best cartoonists, whose comic illustrations are brought back to life like Frankenstein's monster himself! Enjoy... for there is no turning back after turning the pages!